Article by IG Senior Market Analyst Axel Rudolph
FTSE 100, DAX 40, and S&P 500 Prices and Charts
​​​FTSE 100 trades in three-week highs
​The FTSE 100 continues to rise as UK inflation comes in slightly weaker-than-expected. UK CPI hit 7.9% year-on-year (YoY) versus an expected 8.2% with core CPI also falling to a better-than-expected 6.9% YoY (vs 7.1%) in June.​The index's rise above last week's high at 7,481 puts the April-to-July downtrend line, 55- and 200-day simple moving averages (SMA) as well as the early June low and early July high at 7,546 to 7,591 on the cards.
​The 7,433 to 7,394 May, June, and this week's lows are to offer good support. While this area underpins, a bullish reversal should continue to take place.
FTSE 100 Daily Price Chart​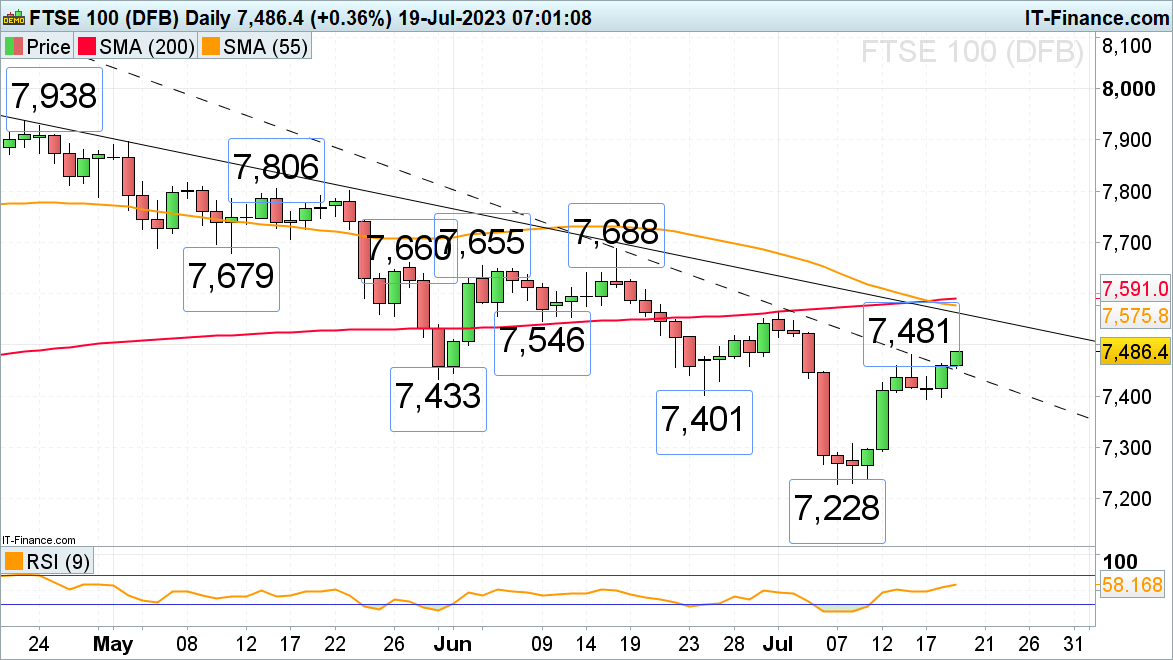 Trading Strategies and Risk Management
Becoming a Better Trader
Recommended by IG
​DAX 40 approaches key resistance area
​The DAX 40 continues its advance amid better-than-expected U.S. corporate earnings and is on track to probe the early and mid-July highs at 16,187 to 16,221.​If overcome, the May peak at 16,333 will be next in line.
​Immediate support can be spotted along the July uptrend line at 16,114 and at the 16,009 early May high ahead of the 55-day simple moving average (SMA) and Monday's low at 15,996 to 15,994.
DAX 40 Daily Price Chart
Recommended by IG
Traits of Successful Traders
​
​S&P 500 trades in new 16-month highs
​Upbeat corporate earnings results and growing expectations for a soft-landing in the U.S. propelled the S&P 500 to new 16-month highs at 4,563 with the late January 2022 high at 4,595 and the March 2022 peak at 4,637 representing the next upside targets.
​Slips should find support along the one-month support line at 4,536 and at Monday's 4,533 high as well as around the 4,530 late December 2021 low. ​While Monday's low at 4,498 underpins, the immediate uptrend will remain intact.
S&P 500 Daily Price Chart