Recommended by Manish Jaradi
Get Your Free Top Trading Opportunities Forecast
Global equity markets fell sharply in the week on escalating tensions in the Middle East and the surging US Treasury yields after the US Federal Reserve Chair Jerome Powell left open the door for further tightening.
The MSCI All Country World index dropped 2.4%, the S&P 500 index fell 2.4%, and the Nasdaq 100 index declined 2.8%. The German DAX 40 fell 2.6% and the UK FTSE 100 dropped 2.6%. In Asia, the Hang Seng index fell 3.6%, while Japan's Topix decreased 2.3%. Risk-sensitive currencies, including the Australian dollar and the New Zealand dollar, were mostly lower. Bitcoin jumped nearly 10% during the week.
Past week market performance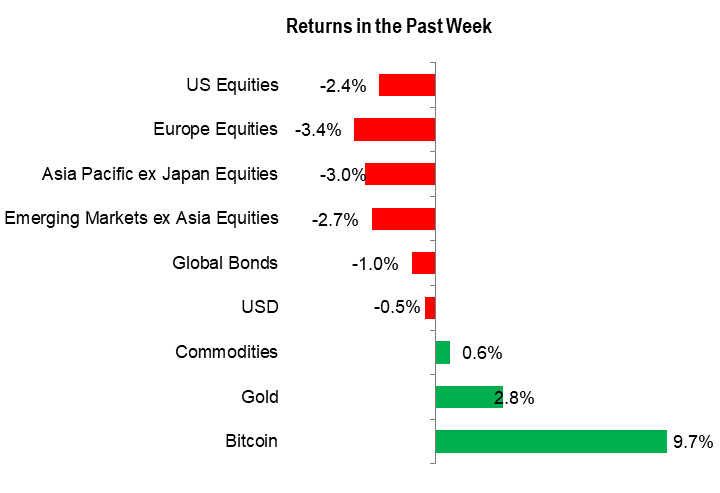 Source Data: Bloomberg; chart prepared in excel.
Note: Global Bonds proxy used is Bloomberg Global Aggregate Total Return Index UnhedgedUSD; Commodities proxy used is BBG Commodity Total Return.
The US Treasury 10-year yield hit the highest level since mid-2007 after Powell acknowledged the impact of tightening financial conditions but stopped short of closing the possibility of further tightening given the strength of the economy and tight labor markets. In recent weeks, the negative correlation between bonds and equities has hit the highest level in years, suggesting that the bond market is a leading indicator for stocks. Yields have risen despite mounting fears of an escalation in the Middle East conflict. Flight-to-safety has pushed up gold to the highest level in 5 months.
Meanwhile, the third-quarter US earnings season is shifting to top gear, with 86 companies in the index having reported. While sales surprise has been mixed so far, earnings have surprised on the upside, possibly a reflection that earnings may have troughed in the cycle.
The key focus next week is on the European Central Bank interest rate decision due Thursday. The central bank is widely expected to keep interest rates unchanged, but stresses that rates will stay high for an extended period. The Bank of Canada is also expected to remain on hold on moderating price pressures when it meets on Wednesday.
Germany GfK Consumer Confidence, Germany HCOB Manufacturing PMI Flash, and UK jobs data are due on Tuesday, along with ECB President Lagarde's speech. Australia Q3 CPI, German Ifo Business Climate, and Bank of Canada interest rate decision are due on Wednesday. ECB interest rate decision, ECB President Lagarde's speech, Fed Chair Powell's speech, US durable goods orders, and US Q3 GDP are due on Thursday. US Core PCE Price Index data is due on Friday.
US Dollar Forecast: The Fed and US Yields Sustain USD Support
Prominent Fed members came out in support of holding rates, allowing the bond market premium to keep financial conditions tight. Added safe haven appeal prop us USD.
Oil Weekly Forecast: Technicals Hint at Further Upside but Geopolitics Holds the Key
Oil prices look poised for further upside from a technical standpoint but tensions in the Middle East will remain the key driver of Oil prices in the week ahead. Will we see a fresh YTD high?
Euro Weekly Forecast: EUR/USD, EUR/GBP Await ECB. Breakout or Breakdown Ahead?
This article offers a detailed analysis of EUR/USD and EUR/GBP, considering both fundamental and technical viewpoints ahead of the ECB decision. It also examines important price levels that may come into play next week.
Gold/Silver Weekly Forecast: A Dead-Cat Bounce or Game Changer?
The sharp bounce in gold and silver recently has raised questions on whether it is time to reassess the bearish outlook. Is it time to reassess the broader outlook?
USD/JPY Weekly Forecast: Japanese Yen Staggers Towards 150
JPY prices look vulnerable to another breach of the 150 resistance handle ahead of a US data focused week.
Australian Dollar Forecast: RBA – From Implicit to Explicit – Crunch Time
The Australian Dollar is struggling to gain traction but the RBA might be posturing toward a more hawkish stance and it may manifest in CPI remains robust. Where to for AUD/USD and EUR/AUD?
British Pound (GBP) Weekly Forecasts: GBP/USD and EUR/GBP
Sterling is drifting lower against a range of currencies and this looks likely to continue next week.
Nasdaq 100, S&P 500 Weekly Forecast: Alphabet, Microsoft and Amazon Earnings Eyed
Corporate earnings from tech mega-caps Alphabet, Microsoft, and Amazon could guide market sentiment and set the trading tone for the S&P 500 and Nasdaq 100 in the coming week.
Recommended by Manish Jaradi
Forex for Beginners
— Article Body Written by Manish Jaradi, Strategist for DailyFX.com
— Individual Articles Composed by DailyFX Team Members
— Contact and follow Jaradi on Twitter: @JaradiManish