Article by IG Chief Analyst Chris Beauchamp
FTSE, Dax, Dow Jones – Prices and Charts
​​​FTSE 100 continues to rise
​After surging last week the index's move higher has slowed, but It has held on to the gains made. ​With the price now above the 100-day SMA a more bullish view might begin to prevail. It has also cleared trendline resistance from the April high. This now opens the way to 7800 and then the April peak at 7925.
​A move back below 7550 would be needed to reverse this outlook, and then below 7500 a bearish view prevails again.
FTSE 100 Daily Price Chart
Recommended by IG
Traits of Successful Traders
​
​Dax struggles to move higher
​The index has struggled to make headway, although small gains have been made over the last week.​The price remains close to the highs of June, but for the moment the buyers seem unable to muster the strength to drive the index above 16,300 and then on above June's record high.
​A drop back below 16,000 might bring the 15,700 support level into play once again.
DAXDaily Price Chart
Trading Strategies and Risk Management
Trading with Pitchfork and Slopes
Recommended by IG
​
​Dow is steady at recent highs
​The index hit a new high for the year yesterday, but some nervousness ahead of more big earnings and tonight's Fed decision meant it was unable to hold its gains. ​After the surge from the July low, the index looks over-extended in the short term. A pullback towards 34,500 may create a higher low.
​Further gains from current levels would target 36,000, and then on to 37,000, the peak from January 2022.
DowJones Daily Price Chart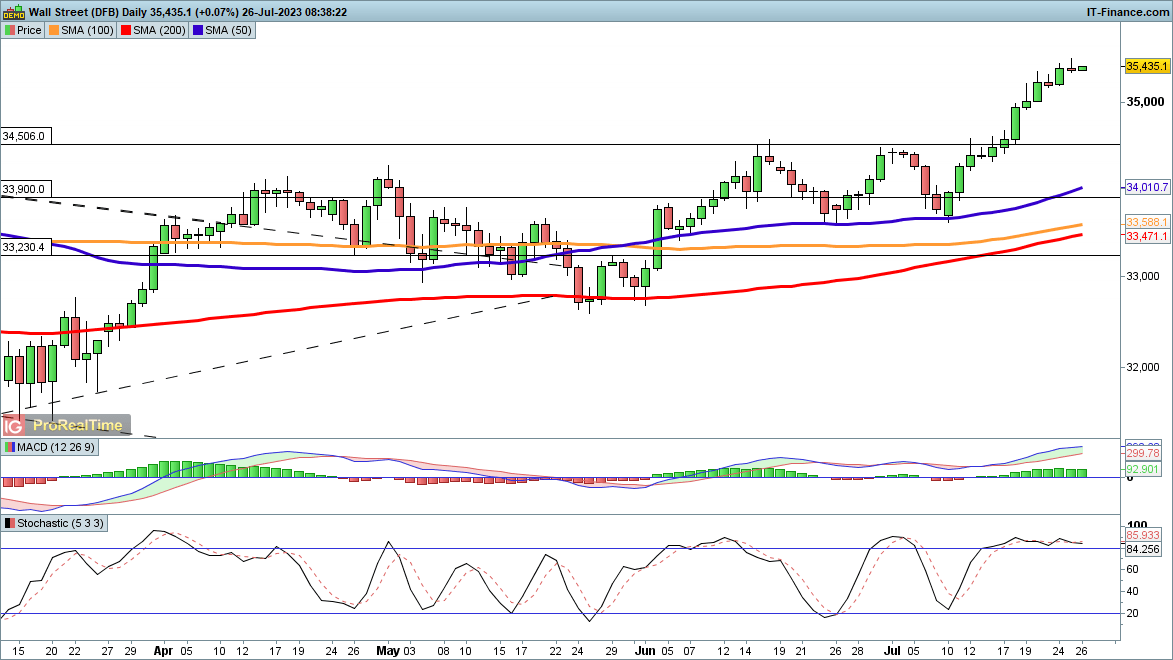 ​