Article by IG Senior Market Analyst Axel Rudolph
FTSE 100, DAX 40, S&P 500 Prices, Analysis, and Charts
Foundational Trading Knowledge
Find Your Trading Style
Recommended by IG
FTSE 100 stabilizes ahead of the start of U.S. earnings season
​​The FTSE 100's three-consecutive day rise is losing upside momentum ahead of major U.S. earnings results out later today and as it approaches the June-to-July downtrend line at 7,459. ​If it and Thursday's high at 7,459 were to be exceeded, the way would be open for the 9 June low, April-to-July downtrend line, 200- and 55-day moving averages at 7,546 to 7,595 to be reached.
​Minor support can be found at the 7,401 late June low.
FTSE 100 Daily Price Chart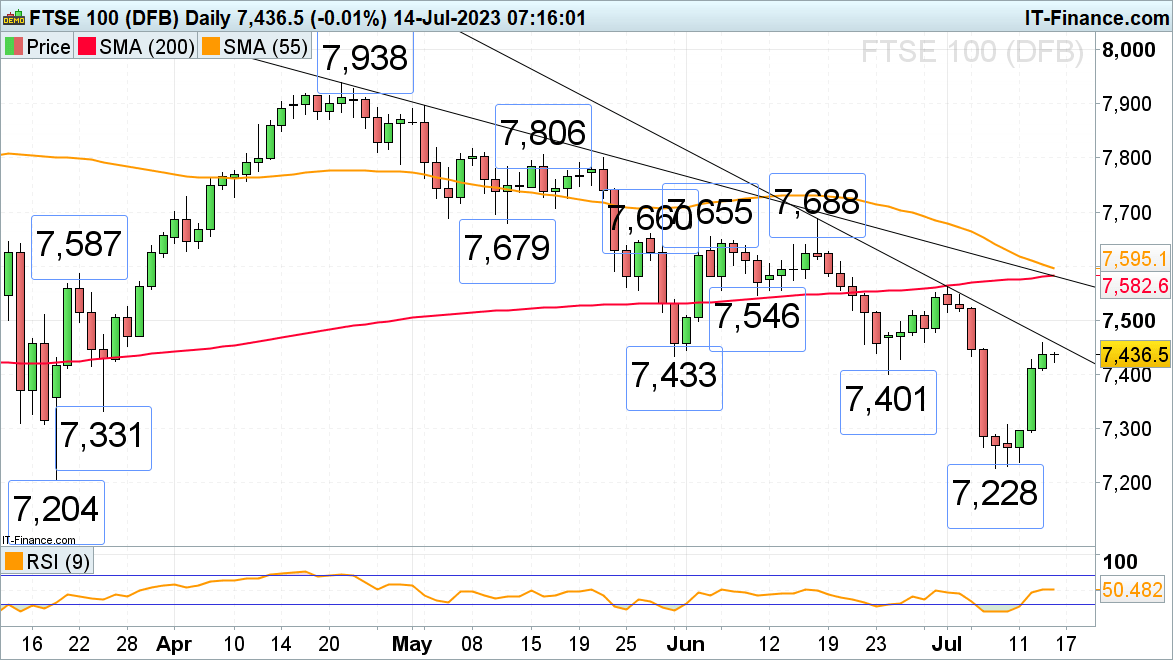 Recommended by IG
Traits of Successful Traders
​
​DAX 40 has seen five days of consecutive gains
​The DAX 40 has now risen on five consecutive days as U.S. inflation abates and the odds of further Fed rate hikes diminish and that of a soft landing increases. ​The early July high at 16,211 is now within reach, a rise above which could lead to the May peak at 16,333 being reached next.
​Slips should find support along the breached June-to-July downtrend line at 16,036 below which the 55-day simple moving average (SMA) can be spotted at 15,979.
DAX 40 Daily Price Chart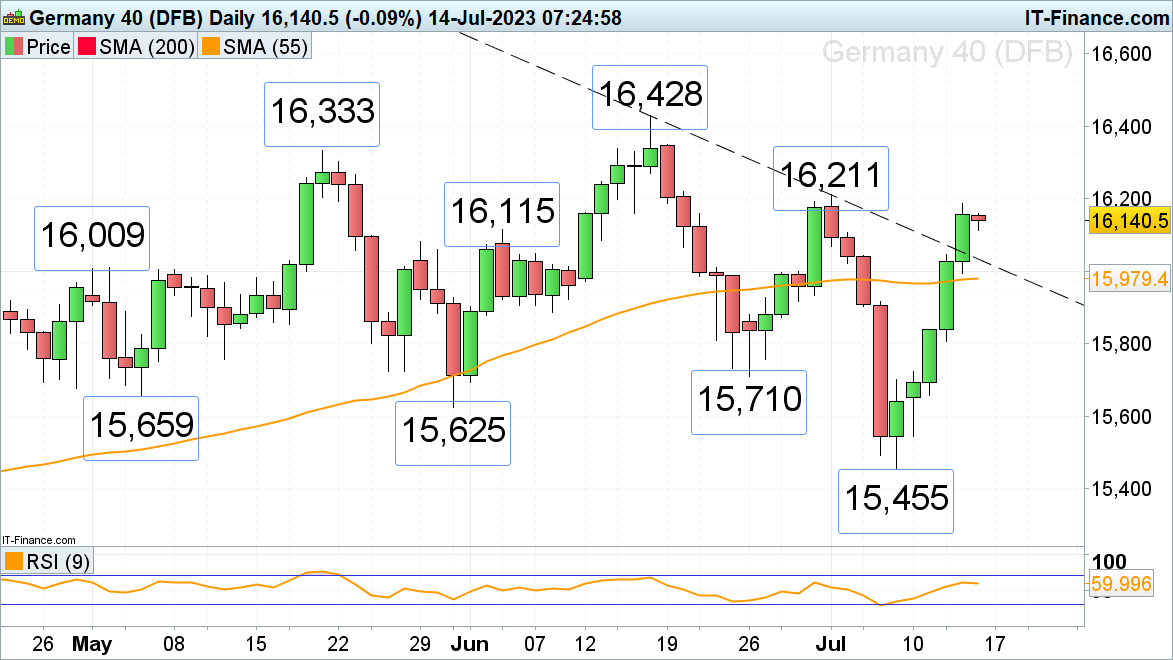 ​
​S&P 500 trades at 16-month highs
​Following four consecutive days of rising prices taking the S&P 500 to a new 16-month high, the index may lose some upside momentum on profit-taking ahead of the weekend and as JPMorgan, Citigroup, Wells Fargo, and global fund titan Blackrock kick off the Q2 earnings season on Friday. ​Above Thursday's 4,517 high lies the 8 April 2022 peak at 4,525 and still further up the 4,530 late December 2021 low.
​Below Thursday's low at 4,481 sits strong support between the mid- to late-June highs at 4,458 to 4,447.
S&P 500 Daily Price Chart