Article by IG Chief Market Analyst Chris Beauchamp
DAX, Dow Jones, Nikkei Analysis and Charts
​​​Dax surges to new intraday high
​The index was given fresh strength by a dovish ECB meeting yesterday. ​European indices enjoyed a solid session, which may well have given them the strength to move higher over the medium term. It seems the index's consolidation may have come to an end, and a move into new record-high territory could develop.
​Sellers will want to see a close back below 16,000 to put the price below Wednesday's low and also under the 50-day SMA. This could then open the way to 15,7000 or the July low at 15,500.
DAX 40 Daily Price Chart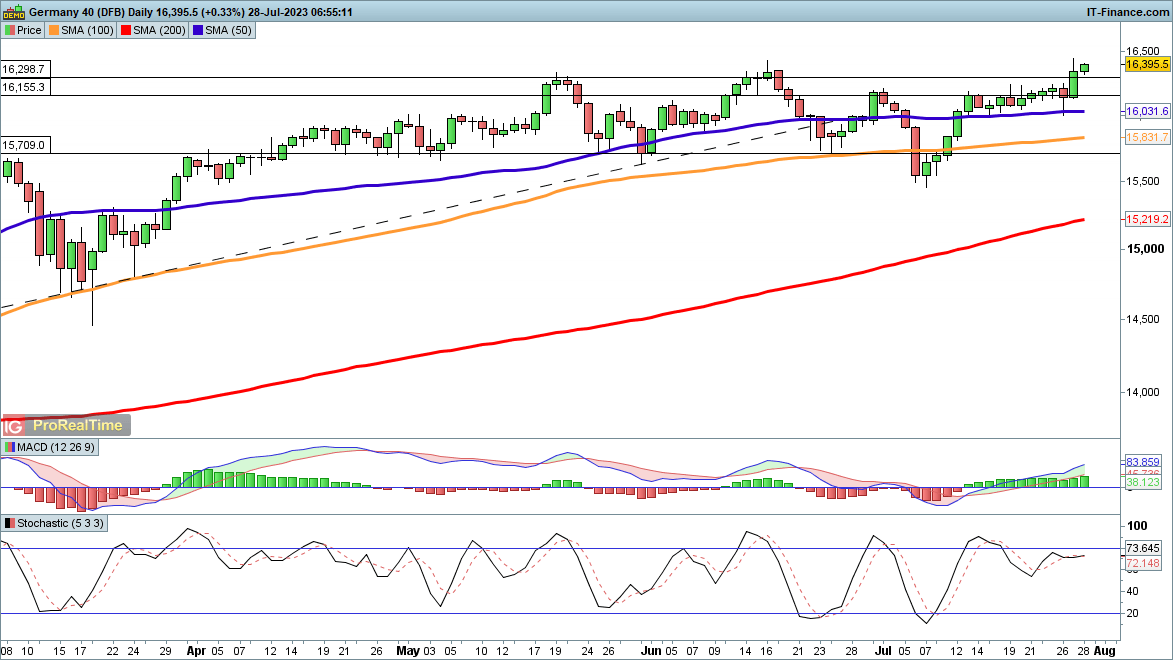 Recommended by IG
Building Confidence in Trading
​
​Dow edges up after losses
​The index's rally appears to have run its course for now, as the price drops back below 35,500. ​Admittedly losses have been slight, and the index remains where it was some two days ago. This has yet to turn into a much deeper pullback and looks more like consolidation. A bugger pullback below 35,000 could see the 34,500 highs tested as possible support.
​A revival above 35,500 could see the price move to the February 2022 highs at 35,861, and then on to 36,465 and the record high at 36,954.
Dow Jones Daily Price Chart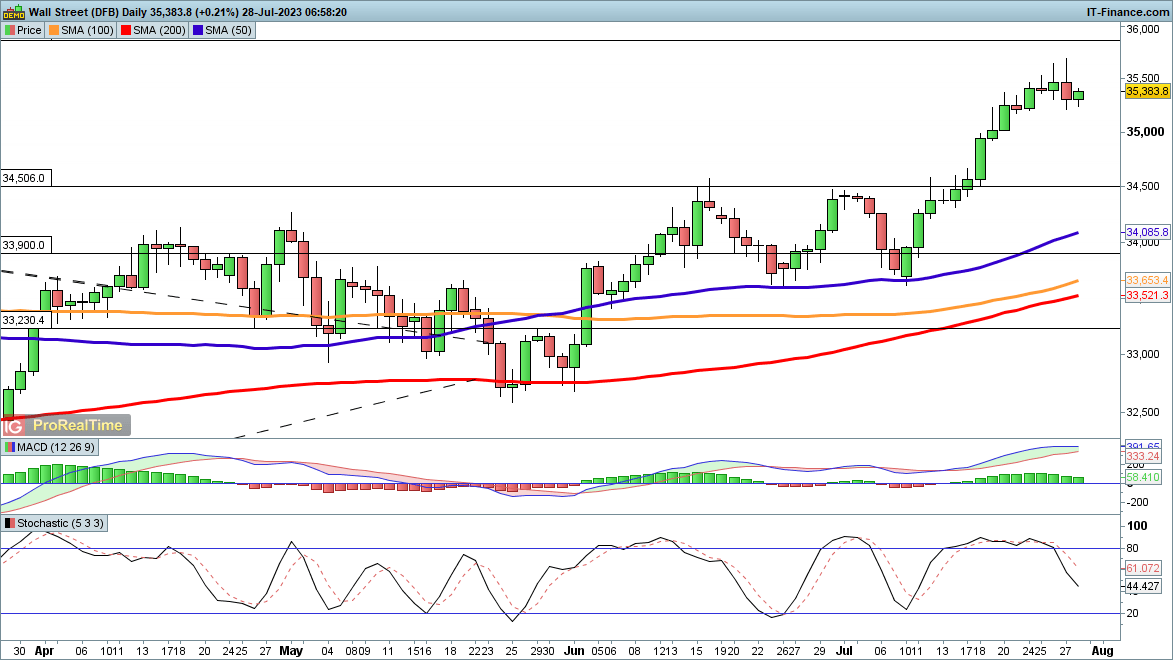 Recommended by IG
Traits of Successful Traders
​Nikkei 225 is steady despite BoJ developments
​The price was knocked back by the Bank of Japan meeting and by the comments that preceded it yesterday regarding tweaks to its monetary policy.​The price dropped back to 32,070, an area that has held all month as support. This actually appears to have strengthened the bullish thesis, since the price has recovered and moved back to the 50-day SMA. A close above this and then above 33,070, which has held back gains this month, would bolster expectations of further upside, targeting trendline resistance from the June peak.
​A close below 32,000 is needed to hand the bears the advantage in the short term, indicating a deeper retracement towards the 100-day SMA is possible. This would still leave the uptrend intact, however.
Nikkei 225 Daily Price Chart